Business figures 'cautious' over £55m development plans for Middlesbrough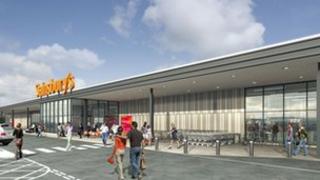 Business figures say they "cautiously welcome" development plans totalling £55m in Middlesbrough.
Terrace Hill's applications include a £35m retail and leisure scheme on vacant land in the Middlehaven area and a £20m redevelopment at Wilson Street.
The plans have been backed unanimously by Middlesbrough Council.
But some business representatives fear they could pull trade out of the town centre.
The £35m proposal for a site known as Gateway Middlehaven near the Riverside football stadium would include an 80,000sq ft Sainsbury's food store and filling station, a KFC drive-through, coffee shop and restaurant.
The closure of the Sainsbury's at Wilson Street would then pave the way for an extensive redevelopment with a number of new retail and leisure outlets.
Terrace Hill claims the schemes will create 820 jobs in retail and 300 in the construction industry as well as safeguard 230 positions from the existing supermarket.
'Worth the risk'
It also said they will bring £9m additional wages into the local economy.
However, some business figures warned it is important they do not pull trade away from shops already trading in the town centre.
Rachel Anderson, head of member relations at North East Chamber of Commerce, said: "It represents a significant investment in Middlesbrough and that's not to be turned down lightly.
"We will not know whether the Middlehaven Gateway will take too much trade out of the town centre until it is built, but on balance we think it is worth the risk. We cautiously welcome it."
Her comments were echoed by North East retail analyst Graham Soult, who said: "It's hard to turn your nose up at investments of this scale
"It's a welcome investment at a time when other schemes are being cancelled or postponed.
"But if it is done badly it could have a negative impact. It's important to see who signs up for the retail units. There aren't that many retailers who aren't already represented who would wish to be.
"My concern would be if the new developments pull retailers out of the town centre who are already there."
Middlehaven ward councillor John McPartland said the potential impact on young people in the area was most important.
"It means jobs for younger people, in particular at a time when we are struggling as a town, as a region and as a country to find jobs. There are so many young people unemployed."