A67 at Low Carlbury: £4m to repair landslip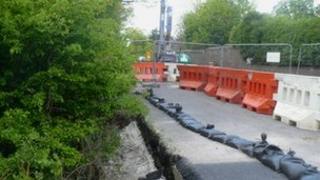 The cost of repairing landslip damage to a busy commuter route will be almost £4m, a council has said.
The A67 at Low Carlbury, near Darlington, was shut for safety reasons in March, but is now partially open.
Latest investigations have shown that a larger stretch of embankment was unstable than previously thought, leading to the risk of further closure.
Darlington Borough Council has applied to the Department for Transport for funding to make permanent repairs.
If successful, work to install a number of long anchors into the embankment and under the road to stabilise the bank could begin in May.
'Peace of mind'
Councillor David Lyonette, cabinet member for transport, said: "Darlington is the gateway to the Tees Valley and Barnard Castle is the gateway to Teesdale, with the A67 as main transport route between these sub-regions.
"A permanent solution to this situation will solve a number of issues.
"It will give road users peace of mind and reduce travel times for more than 8,000 vehicles a day.
"It will also help protect business and local jobs."