Cleveland Police to axe more than 100 jobs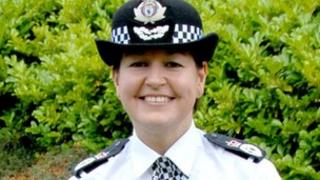 More than 100 jobs, including almost 60 officer posts, are set to be axed by Cleveland Police.
The force, which has to save £6.6m over two years, is also considering combining police and fire stations to save costs.
Chief Constable Jacqui Cheer said it would be "tough", but core police work would not be affected.
However, the chairman of Cleveland Police Federation said he was concerned public safety could be compromised.
The force will be cutting 58 officers from its current level of 1,391, as well as 40 civilian staff and 25 community support officers by the end of March 2015.
A voluntary redundancy and retirement scheme has been put in place, but if not enough people come forward then compulsory redundancies have not been ruled out.
Staff and unions were being kept informed throughout the process, the force said.
'Detrimental effect'
Paul Brown, chairman of Cleveland Police Federation, said: "It's officers on the ground which prevent and detect crime.
"All officers want to do is a good job for the people of Cleveland, but the simple fact is that there aren't enough to do that, and it's only going to get worse.
"They're telling me morale is worse than it's ever been. Stress levels are through the roof.
"The demands are ever increasing, and it is having a detrimental effect."
Ms Cheer said it was the first time in "many years" that voluntary redundancy and early retirement had been "opened up".
"I think it's important to set out plans so we don't get wild rumours and people really start to worry that it's all and everybody," she said.
"It will be tough, it will be challenging. But it's important to make sure that everyone has access to us.
"Most importantly it's about making sure that if you do ring us and it's an emergency we will get there.
"That is our key role, and we will always do that."