Darlington police arrest suspect over road death of boy, 3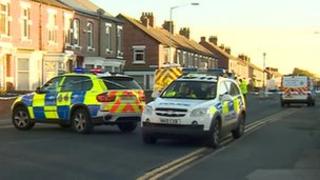 A man has been arrested on suspicion of causing the death by dangerous driving of a three-year-old boy.
The unnamed boy was with his mother and two siblings, one in a pushchair, when he was hit at about 10:30 GMT on Neasham Road, Darlington.
He was taken to Darlington Memorial Hospital by an ambulance crew, but is understood to have been pronounced dead on arrival.
Friends of the dead boy's family described him as a "lovely lad".
'Everyone is devastated'
A Durham Police spokesman said: "A local man has been arrested and is being questioned.
"This is a tragic incident and we send our heartfelt sympathy to the boy's family.
"We are appealing to members of the public to help us establish the events leading to the collision.
"If anyone witnessed anything on Neasham Road this morning or has any information please contact the police."
Marc Dillon, who lives close to where the incident happened, said the dead boy was a friend of his own son.
He said he was alerted by screaming coming from the street.
Mr Dillon added: "I ran to the top of the street and saw the little boy laying in a pool of blood and a lot of people around him.
"He played with my own son and this is just devastating, everyone is devastated.
"He was such a lively little lad."