Hitachi train plant: construction starts in Newton Aycliffe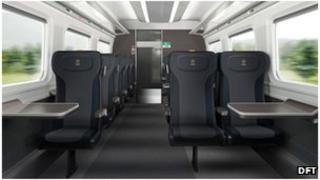 Work is due to begin on an £82m factory in County Durham, where hundreds of new train carriages will be built.
More than 700 people will be employed at the Hitachi production plant at Newton Aycliffe when it is completed in mid-2015.
Business Secretary Vince Cable and Transport Secretary Patrick McLoughlin attended a celebration at the site.
Almost 300 carriages will be built at the plant for a fleet of new trains for the East Coast Main Line in 2019.
Last year, the government agreed an initial order for carriages with Agility Trains, a consortium of Hitachi and British firm John Laing.
In total, the new fleet will comprise 122 complete trains and will have more seats and wider aisles than older models.
The trains are capable of running at up to 140 mph (225kmph), but to run at that speed lines and signals will need upgrading.
Mr Cable said: "The factory will be a great boost to the North East economy, creating over 700 jobs and bringing a long tradition of rail manufacturing back to the region."
About 150 jobs will be created during the construction phase of the factory.