Middlesbrough Council criticised over travel expenses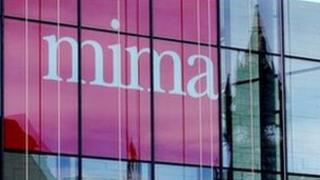 "Serious issues" were found in an audit of spending on staff travel by a council preparing to cut up to 1,500 jobs, BBC News has learned.
The audit of Middlesbrough Council's payments for rail travel and hire cars found inadequate consideration was given to keeping costs down.
Several payments were incorrectly described, including one of £3,000 to ship a piece of art to the USA.
The authority said it had responded to recommendations made in the report.
It faces a budget shortfall of £67m and expects the "best-case scenario" will see it lose 1,000 staff within three years.
Literature festival flights
The confidential audit was completed in April and covers the previous four years.
It found "a lack of evidence that adequate consideration" was given to minimising the costs of travel.
Examples of charges being incorrectly coded included £3,086.50 classed as rail travel, when the actual cost was for shipping a piece of art back to the USA after it had been loaned to the mima art gallery.
A further £837.12 was coded to rail travel when it represented return flights to Germany for the council's audience development officer and two competitors to attend a literature festival.
Councils have previously been criticised for their expenditure on air travel by the Taxpayers' Alliance.
The audit was carried out after members of Middlesbrough Independent Councillors Association raised concerns.
Councillor Brian Hubbard said its findings were "absolutely disgusting" and called for an independent review of all council spending.
"As councillors we're duty-bound to make sure the public purse is spent as prudently as possible," he said.
A council spokesman said: "The internal audit report has given satisfactory assurance that acceptable internal controls are in operation."
'Swift action'
A wider review of transport spending is also now taking place.
Auditors were satisfied "swift appropriate action" had or was being taken to correct the "serious issues" identified.
The report found groups of staff had travelled to conferences when "fewer attendees may have been sufficient".
Expensive ticket prices were "possibly as a result of late bookings, open-ended tickets and travelling through London at peak periods", it states.
Instances of flights by social workers to France and rail travel to the south of England were also highlighted.
The review of hire car costs found a "lack of transparency" for budget managers to monitor what they were being charged for.
About £5,500 was spent on the use of a "run-around" vehicle for staff in the fleet services department for more than two years and an increase in surcharges was linked to the fact cars were often returned without being refuelled.