Durham Tees Valley Airport axes summer holiday flights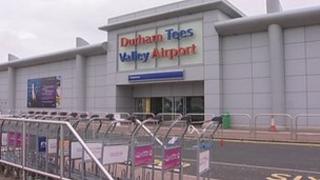 A decision to move away from running holiday flights at Durham Tees Valley Airport has been labelled "suicidal".
Stockton South Conservative MP James Wharton said the change was an "unwelcome shift" for the area.
The airport will instead concentrate on business flights to Schiphol, Holland, and Aberdeen, alongside its "non aviation activities".
The airport's managing director, Steve Gill, said it had endured a "difficult period".
Majority owner Peel Holdings has twice made unsuccessful applications to the government's regional growth fund for extra investment after passenger numbers fell by about 700,000 in seven years.
Jersey flights
Mr Gill said a "strategic master plan", to be released next month, would outline how the airport would build a "strong foundation to help safeguard the future of aviation activity".
Recent investment by the airport demonstrated its "long-term commitment" to making a "positive contribution" to the region's economy, he added.
Six councils have a minority stake in the site, which changed its name from Teesside Airport in 2004.
The latest changes will see all holiday routes cancelled from summer 2014, with the exception of Flybe flights to Jersey.
All Thomson, First Choice and Balkan Holidays flights will end.
Mr Wharton described Wednesday's announcement as "a real blow".
"Although welcome that business flights and the KLM service to Schiphol will be retained, the owners risk making a big mistake pushing away holiday business," he said.
'Clunky and meaningless'
It emerged on Tuesday that Thomson flights to the Spanish islands of Majorca and Ibiza had been cancelled against the wishes of the airline.
Mr Wharton added: "It seems clear that Thomson do not want to lose their flights from Teesside, to turn away flights seems suicidal.
"Time and again I have tried to support the airport and its owners but they have completely failed to grasp what is needed.
"Even small things like renaming it Teesside instead of the clunky and meaningless Durham Tees Valley were rejected because they just do not want to listen to local people."