Thomson flights axed from Durham Tees Valley Airport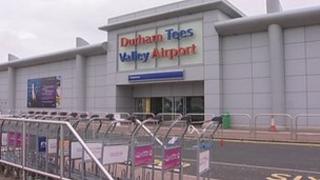 Durham Tees Valley Airport has suffered a "blow" after it was revealed charter operator Thomson would no longer fly from the site, a board member has said.
Thomson said the decision not to operate its planned weekly flights to Spain in 2014 was out of its control and prompted by the airport.
Durham Tees Valley said it would reveal its "future business direction" soon.
Thomson customers with existing bookings will have to fly from another airport.
In a statement, the airport, in which six local authorities have a minority stake, said: "We can confirm that there will be no flights to Palma and Ibiza operated by Thomson Holidays for the summer 2014 season.
"For alternative flights to these destinations, customers are asked to consult the Thomson website."
'Get to grips'
A spokesman for Thomson, which also operates First Choice flights, said its decision had been prompted by a "business review" carried out by the airport.
"We would like to apologise to customers for any inconvenience that this change in departure airport will cause them, however the decision is completely out of our control," he said.
He added: "We would like to reassure those customers who have already booked holidays that they will be offered an alternative choice of airport."
Redcar and Cleveland Council leader George Dunning, who sits on the airport's board, described the move as a "body blow".
He said: "The board have to get to grips with this. I'm very disappointed, but would hope that it would continue in some way as a passenger airport."
Thomson had operated weekly flights to Alicante and Tenerife during last winter and to Palma over the summer.
Services by other operators, including KLM and Eastern Airways, are unaffected.
KLM runs daily flights to Amsterdam while Eastern Airways runs daily flights to Aberdeen.
Majority owner Peel Holdings has twice made unsuccessful applications to the government's regional growth fund for extra investment after passenger numbers fell by about 700,000 since 2006.