Pervaz Khan and Derek Loughborough reinstated by Labour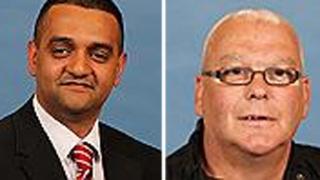 Two Labour councillors suspended over allegations surrounding the recruitment of new members have been reinstated.
Middlesbrough councillors Pervaz Khan and Derek Loughborough have received "formal warnings" about their behaviour, a party spokesman confirmed.
They were suspended in July after claims they had paid the initial subscription fees of new members.
Concerns were raised when a high number of people joined the party in a short space of time.
Mr Khan represents the Middlehaven ward and Mr Loughborough represents North Ormesby and Brambles Farm.
A Labour North spokesman said: "Councillor Khan and Councillor Loughborough have received a formal warning from the National Executive Committee of the Labour Party following an investigation into allegations of a breach of party rules in relation to the recruitment of new members.
"Their administrative suspensions have now been lifted and they can return to membership of the Labour group on Middlesbrough Council."