South Tees NHS pay error cost trust £2,500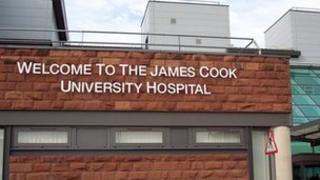 A pay error, which led to thousands of hospital staff receiving their wages late, cost an NHS Trust almost £2,500.
South Tees Hospitals NHS Foundation Trust workers were hit by the delay in August after "human error".
The trust paid bank charges of more than 60 staff as a result of the mistake, a Freedom of Information request from BBC News found.
A spokeswoman for the trust said new protocols were now in place to prevent a repeat.
She said: "We now have control checks to mitigate risk at all stages of the payroll process, tighter processes in the payroll department and three signatures need to be obtained, including one from a senior member of the finance team, to verify dates and amounts."
About 8,500 staff received their pay up to three days late.
The trust runs James Cook University Hospital in Middlesbrough and the Friarage in Northallerton.