Operation Sacristy 'a shadow' over Cleveland Police - PCC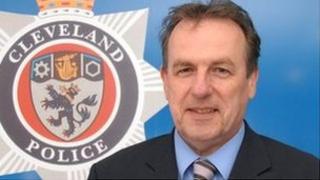 A corruption inquiry at Cleveland Police is an "unwelcome shadow" over progress being made, its police and crime commissioner (PCC) believes.
In a review of his first year, Barry Coppinger says the "spectre of the past problems" have never been far away.
His report will be presented to police and crime panel members on Tuesday.
Operation Sacristy has cost more than £4m since it started in 2011. The investigation around the former police authority has led to 10 arrests.
Nine of those held are on bail until January.
In his report, Mr Coppinger pledges to open a review of the force within a year.
Dodged speeding points
"I will commission a wholly-independent health check of the organisation to ensure that all the lessons that could be learned have been, and that the direction of travel is the right one," he writes.
"I am sure this will be welcomed as much by the hard working staff within Cleveland Police as it will be by the general public."
The force's former chief constable Sean Price is among those arrested.
He was sacked last October for gross misconduct after it was found he lied about his role in the recruitment of the daughter of the police authority's former chairman, Dave McLuckie.
Mr Price's deputy Derek Bonnard was also dismissed following a separate disciplinary hearing.
McLuckie was jailed in July after he was found guilty of perverting the course of justice for dodging speeding points.
McLuckie and Mr Price remain on bail in relation to their arrests as part of Operation Sacristy.