Closure-threatened Shildon Rail Museum turns it around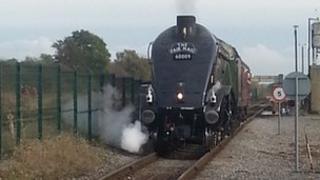 A rail museum that was under threat of closure has boosted visitor numbers, managers said.
Locomotion: National Rail Museum in Shildon, County Durham, has welcomed almost 210,000 visitors through the doors this year - a 2% increase on 2012.
Manager at the free attraction, George Muirhead, said well-promoted events and a sunny summer were responsible for the boost.
The museum, which opened in 2004, is run by the Science Museum Group (SMG) which is facing government budget cuts.
SMG also runs the National Media Museum, in Bradford, the Museum of Science and Industry, Manchester, and the Science Museum, in London.
It revealed earlier this year that it was considering closing one of its museums in the North because of cuts.
Mr Muirhead said: "We've had an exceptionally busy year.
'Extra muscle'
"I know it sounds very simple but I think a good summer is very important. We've had lots of outside events and that helps. Rain puts a real dampener on things."
He also said a national campaign, supported by Visit County Durham, had helped promote regional visitor attractions.
He added: "We've had posters about the museum being put up at rail stations along the East Coast Main Line, including at King's Cross Station in London.
"The extra level of exposure has definitely resulted in more hits on our website - we've had extra muscle behind our marketing that has really helped.
"Around 35% of our visitors come from outside the region so clearly the message is getting across."