China and the North East: Swapping carrots for cars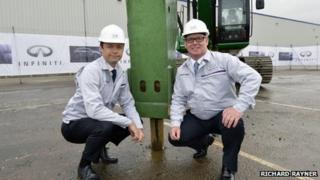 Building work is under way on a plant at Nissan's Sunderland site as part of a major car-building project which will them to export around the world.
The ground breaking ceremony this week was for the plant which will make a luxury model under the Infiniti brand and aimed - in part at least - at the affluent Chinese motorist.
Production of the Q30 will start on Wearside within two years.
Nissan is aiming to increase its Infiniti sales in China and the new model will become the first new car brand to be manufactured in the UK on this scale for 23 years, the company said.
Senior manager at Infiniti Global Communications, Jon Walsh, said he believed it was the "only plant in the world that we can see the car being made is in Sunderland".
"Exports will go around the world including Europe, and China we can see being a very important market for us, as will the USA."
He said China was an important market, not just for the Q30, but for the whole brand because of its size and that it was still growing.
Mr Walsh said: "This is a new car for us, a new segment for us to go into. To have it built in Sunderland says a lot about the ability of the team there."
'Incredible wealth'
Chancellor George Osborne would approve. He has been in China this week trying to drum up business, and make the government's aim of doubling trade with China by 2015 a reality.
Not that the north-east of England is a trade laggard where China is concerned. In 2012 it exported goods and services worth about £327m, with machinery and transport equipment and chemicals leading the way.
According to Colin Scarsi, managing director of Greencare Mobility in Middlesbrough, there are opportunities to help increase that figure, even given the fact that manufacturing can be carried out far more cheaply in China
And that would include rivals to his own wheelchair range which he has exported to the country since 2010.
"They certainly do make it cheaper in China than we do," he said.
"Labour rates are low, of course. But people in China do like the European badge. It's synonymous with quality, a high standard, something well designed, well built.
"In technology, products with added value, there are opportunities. It's a £1bn market with a growing middle class. There's incredible wealth there now."
Another business which has discovered that is the County Durham-based sub-sea company DeepOcean.
It made 3-D models of the sunken liner Costa Concordia, allowing the salvage teams to 'see' the vessel on the seabed.
But it is also digging an underwater trench that will carry one of the longest pipelines in the world from a point off China's mainland to Hong Kong. It is something of a coup.
"China isn't actually one of the major centres for the sub-sea sector. But it's seen very steady demand for us, and it's becoming a very important market for DeepOcean," said the company's commercial director Pierre Boyde.
Selling carrots
It is not all one-way traffic, however, with both Northumbrian Water and Northern Gas Networks owned by a consortium controlled by Hong Kong's richest man, Li Ka-shing.
And in amongst the £2.5bn pounds worth of goods that come into the UK every month from China, some surprising ones make their way northwards.
Martin Cain is a stallholder in Stockton, who fills the gap in the carrot growing season by selling Chinese imports. He is particularly impressed by their uniformity.
"People take to them very well. When you open the box every one is exactly the same size, all lined up like little soldiers and absolutely perfect," he said.
But it is not just business - or enterprising stallholders - that can benefit from the China-UK link.
The education ties between the UK and China are estimated to be worth more than £1.73bn.
At Durham University, about 1,000 Chinese students are currently on campus, about 6% of the total number of students.
Each will pay a minimum of £14,000, and a maximum of £19,500 to study their chosen subject.
According to David Thornber, the university's regional manager for South and Central Asia, they come not because of an exhaustive recruitment process, but rather thanks to word of mouth back in China.
"We've had generations of students studying at Durham University," he said.
"Chinese students are more than happy to tell their colleagues, friends and relatives about their experiences and that works very well for us."
One previous graduate is former PhD student Linda Hui Yang. She now works as an assistant senior tutor at the University's St Mary's College.
"This is what is very special about Durham," she said. "They make you realise what your strengths are, and they'll give you the opportunities to discover yourself.
"By the time I graduated, I felt that it was a transformative experience as a student.
"When I enrolled, I felt I was a Chinese student, by the time I graduated I felt international. This is what Durham gave me."