Redcar Primary Care Hospital minor surgery unit opens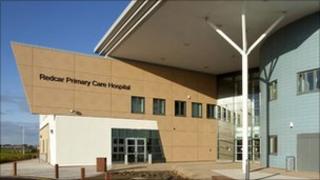 A hospital on Teesside is now able to offer minor surgical procedures to local patients.
The £37m Redcar Primary Care Hospital was opened in 2010, in a bid to reduce pressure on Middlesbrough's James Cook University Hospital.
The first day-surgery procedures, skin grafts under local anaesthetic, are due to take place later.
Patients with more complex conditions will continue to go to Middlesbrough.
Health bosses said the minor surgery unit would free up a theatre suite in the James Cook University Hospital's accident and emergency department.
Lucy Tulloch, associate divisional manager at Redcar Hospital, said: "We are delighted to take our theatre services into the heart of the community.
"Redcar Primary Care Hospital has first-class facilities and provides a lovely environment for patients.
"We look forward to providing more services there in the future."