Teesside woman wins spare room charge appeal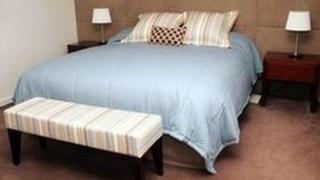 A disabled woman, who is unable to share a bedroom with her husband, has won an appeal against the government's under-occupancy charge.
A housing benefit tribunal said Redcar and Cleveland Council had not fully taken into account the woman's "reasonable requirements."
The council cut the Redcar couple's benefit, arguing they were under-occupying their three-bedroom home.
The government said the ruling did not set a precedent for similar appeals.
The woman, a tenant of Coast and Country Housing, who has chosen to remain anonymous, suffers from various health conditions and this year had a stroke, which resulted in her having to use a wheelchair and require a stair lift.
Along with her husband, she argued that due to her condition they required one bedroom each.
'Medical needs'
The couple have now had the subsidy reduced to 14%, down from 25%.
Households deemed to have one extra bedroom have their housing benefit cut by 14%. That rises to 25% for people who have two or more spare bedrooms.
The tribunal, which was held in Middlesbrough, concluded that: "In considering whether there is under-occupation of the appellant's property, the local authority have not taken into consideration her disabilities and her reasonable requirements, as a result of these, to sleep in a bedroom of her own."
The woman's husband said in a statement: "We took on the government on the spare room subsidy and won.
"The tribunal concluded that although we are a couple, my wife's particular circumstances, the extent and effect of her disabling medical conditions and her resulting needs due to her disabilities, mean that we reasonably require one bedroom each and should therefore be assessed for housing benefit on this basis."
A spokesman for the Department for Work and Pensions said: "Tribunal decisions at this level do not set a precedent.
"We will need to look at this particular decision in detail, but in July the Divisional Court ruled that the department had fulfilled its equality duties to disabled people who are affected by the policy.
"We are giving local authorities £190m extra funding this year so vulnerable claimants get the help they need during the welfare reforms, with £25m specifically aimed to help disabled people who live in specially adapted accommodation.
"The taxpayer can no longer pay for spare bedrooms in the social housing sector."
'Contentious area'
Iain Sim, chief executive of Coast and Country, which owns the property, said: "The bedroom tax is abhorrent, because it is affecting some of the poorest people in society, who through no fault of their own are living in homes that are classed as too big for them."
A spokesman for disability charity Scope said: "This could be a really important ruling, coming on the back of similar cases in Glasgow and London. Once again it shows these are not spare bedrooms, these are essential rooms."
The leader of Redcar and Cleveland Borough Council, George Dunning, said: "The council welcomes this clarification of the law in this difficult and contentious area.
"As a local authority we have no option but to apply the Department of Work and Pension's guidance and this judgement will undoubtedly assist many people with disabilities across the country."