University Hospital of Hartlepool loses emergency care services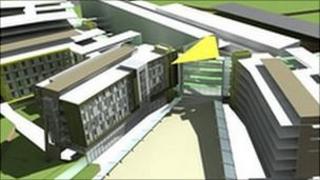 Emergency and critical care services are being moved from the University Hospital of Hartlepool to North Tees Hospital in Stockton.
Doctors had raised concerns about working across two sites.
They said that, while services were currently safe, they were becoming "increasingly unable" to meet the required standards for critical care services.
The trust said the move would ensure the "safest possible" patient services.
Any patients who need emergency medical or critical care treatment will be taken to the University Hospital of North Tees by ambulance, the trust said.
The move is ahead of the replacement of both hospitals by a new £300m "super-hospital" at Wynyard Park.
Doctors said they wished to centralise the services at the University Hospital of North Tees as an interim measure until the new facility opens.
From 7 October, people living in Hartlepool, Peterlee, Easington and Sedgefield will need to go to North Tees for care.
Dr Stewart Findlay, chief clinical officer of NHS Durham Dales, Easington and Sedgefield Clinical Commissioning Group, said: "All partners have been working hard to make sure that the changes to services are as smooth as possible and they take place before the winter period when services become very busy."
It is hoped the new hospital at Wynyard will be up and running by 2017.