Middlesbrough Bottle of Notes anniversary exhibition opens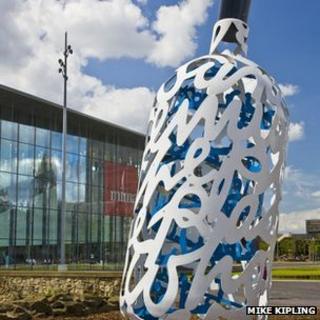 As messages in a bottle go, the one that arrived in Middlesbrough 20 years ago caused quite a stir.
Even before the 30ft (9.1m) Bottle of Notes was built, it had attracted criticism from an MP and been met with bewilderment by local people.
Now said to be "part of the landscape", the sculpture by Claes Oldenburg and Coosje van Bruggen still arouses intrigue from visitors and is often used as a climbing frame.
While the married artists may not have envisaged children clambering up and down their creation, two decades after it was installed, their work remains a talking point.
'Art history'
An anniversary exhibition tracing its inspiration from Middlesbrough-born explorer Captain James Cook has opened at the town's Mima gallery.
Marie Neeson, Mima's education and audience development manager, said Oldenburg was immediately drawn to Cook's history when the sculpture was commissioned.
Words from Cook's journal, written on his first voyage on HMS Endeavour, form the outside of the bottle.
The passage, written in June 1769, reads: "We had every advantage we could desire in observing the whole of the passage of the Planet Venus over the Sun's disc."
The bottle remains Oldenburg's only sculpture in the UK, making it a "piece of art history" for Middlesbrough, Ms Neeson said.
"If you look at his experience as an artist in the 20th century, he was at the forefront of Pop Art in the New York in the 1950s and 1960s.
"He was intrigued by the everyday objects that people disregard."
The exhibition details the nine-year process that led to the sculpture being installed in September 1993, explaining how the first design work was carried out on a plastic water bottle.
It was eventually built in Hebburn, South Tyneside, and taken to Teesside by road.
The Mima display also describes how Oldenburg and van Bruggen received honorary degrees from Teesside University and tells the story of a couple who got married after meeting at the bottle.
Ms Neeson said the sculpture was now an accepted part of the town's landscape.
"It's part of people's lives, it's not seen as being outlandish anymore," she said.
The Mima exhibition is free and runs until 23 January.