Darlington leisure scheme 'could create 500 jobs'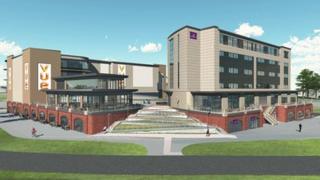 Plans for a multimillion-pound leisure scheme, which could bring hundreds of jobs to County Durham, have been submitted.
Developer Terrace Hill Group said Feethams Leisure will be built on the former bus depot site in Darlington.
Plans include a nine-screen cinema, an 80-bed hotel and more than 600 car parking spaces.
Subject to planning approval, work is anticipated to begin in early 2014 before opening in Summer 2015.
A spokesperson from developer Terrace Hill said: "Nando's and Prezzo are confirmed as joining the scheme and the developer is in advanced discussions with a number of other well-known national leisure brands who are looking to establish a presence in Darlington.
"Subject to approval of the planning application, Feethams Leisure will become one of Darlington's largest employment sites with over 500 jobs created upon completion with additional jobs during the construction phase."
Duncan McEwan, Head of Retail and Leisure Development said: "By establishing a prime leisure destination in the heart of Darlington town centre, we are confident that we can bring positive economic benefits to local people and have a significant effect on Darlington as a whole for many years to come."