Pair jailed for plundering godmother's £130,000 savings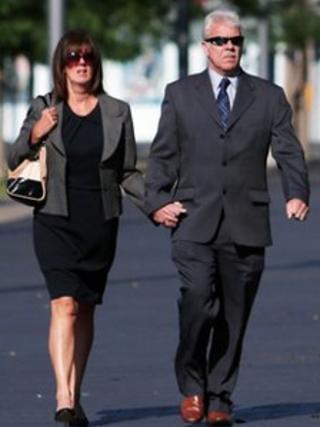 A "selfish" couple who almost wiped out a 91-year-old woman's £130,000 life savings have been jailed for two-and-a-half years.
Lesley Reeve, 56, and husband Andrew, 55, spent all but £3,000 of her godmother Joan Killen's savings after she gave them control of her affairs.
The pair from Hartlepool were convicted at Teesside Crown Court in August after denying four counts of theft.
The court heard they spent thousands on clearing debts and buying a new car.
Judge Simon Bourne-Arton, the Recorder of Middlesbrough, said they were guilty of a gross breach of trust and although they had been hard-working throughout their lives, he branded them "utterly materialistic".
He added: "What the jury concluded you did was to strip all the monies that your godmother, Mrs Reeve, had.
"You did so for your own selfish needs."
'Biblical scale'
They also spent some of the money on converting the garage of their home in Chichester Close, Hartlepool, into a wet room and gym, but told police the work was really to make it into a bedroom for "Aunty Joan", who by then was living in a care home.
They claimed they loved Miss Killen and said she was happy for them to spend her savings as they saw fit, as she was going to leave them everything in her will.
While the Reeves spent tens of thousands on their family home, Miss Killen, who is still alive, lived in a sparsely-decorated room in a care home.
Mr Reeve had claimed it was a coincidence that when police arrested the couple in a dawn raid, the gym contained a treadmill and exercise ball, and maintained the conversion was intended for the 91-year-old.
That story was rejected by the jury who convicted them of stealing £95,000 in savings and theft of rent money they made from getting a tenant to move into Miss Killen's property when she went into care after a fall.
Mrs Reeve was also convicted of stealing £2,940 in pension payments.
Paul Abrahams, defending Mr Reeve, said the the engineer was also likely to lose his job.
The couple face a proceeds of crime hearing which will see them stripped of their assets, said Nigel Soppitt, defending Mrs Reeve.
"She will lose her reputation, her assets including her home, her self-esteem and perhaps her mental health," he said.
The couple's punishment was on a "biblical scale", Mr Soppitt said.