Plans for £18m 'sports village' in Middlesbrough unveiled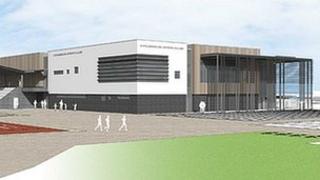 Plans have been unveiled for an £18m "sports village" in Middlesbrough.
The complex, which would include a 400m athletics track, tennis courts and a 75-station gym, would replace several existing sports centres.
Middlesbrough Council said the centre would be built on the site of an existing cycle track and skate park off the town's Marton Road.
Construction work is due to begin early next year, subject to a detailed public consultation exercise.
Middlesbrough mayor Mr Mallon said the town's sporting facilities were "an important part of the fabric of the town, and they mean a great deal to the people who live and work here".
He added: "The town is currently facing unprecedented cuts, which will have severe impact on the services we are able to deliver for many years to come.
"But within that process we have the opportunity to dispose of some of our ageing facilities, and replace them with a new state-of-the-art Sports Village which will stand the town in good stead for the future.
"The ambition is to create a new iconic, regional sports destination which will attract people from across the town and further afield for generations to come."