Stockton mayor's medals sold at auction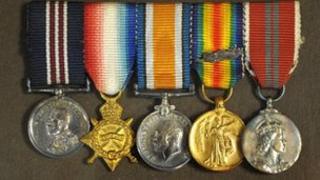 A collection of medals awarded to a former mayor of Stockton has been sold at auction in Newcastle for £200.
L/Cpl Norman Brown served with the 1/5th Battalion of the Durham Light Infantry (DLI) from 1914 until 1922.
The memorabilia, which was auctioned by Anderson & Garland, included a military medal, a 1914-15 star, a Victory medal and a 1953 Coronation Medal.
Mr Brown's grandson Geoff Drinkel said he hoped the person who bought them would appreciate their importance.
Mr Drinkel said his grandfather, who was praised for his bravery several times, was "lucky" to survive the World War I after suffering a gas attack and a shrapnel hit to the helmet in France.
'Wouldn't talk about war'
As well as serving as Stockton mayor Mr Brown, who died in 1963, was also president of the Stockton and District DLI Association.
Speaking before the auction, Mr Drinkel, 69, said: "I knew him as just my grandfather.
"He was brilliant, but the only thing he wouldn't talk about was the First World War, but he taught me how to fast march, being a DLI man.
"Unfortunately, I have no-one to pass my grandfather's medals on to, and I really want them to go somewhere where their importance in our history is understood.
"It would be nice if they went to a good home or someone who would cherish them - but it has been a hard decision."
The collection also included a 9ct gold tortoiseshell sweetheart badge, medals awarded for his wartime service and personal items related to the DLI.
The items went under the hammer on Thursday as part of Anderson & Garland's three-day Fine Art and Antiques sale.