Bishop Auckland finale for son's 11,800-mile motorcycle ride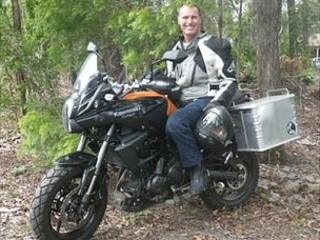 A man has travelled halfway around the world on a motorcycle to bring his mother's ashes back to her former home in County Durham.
Paul Brown's mother Patricia emigrated to New Zealand in 1963. She died of Alzheimer's disease in 2012.
The 51-year-old's 11,800-mile (19,000km) trip from Australia's Sunshine Coast took three months.
He has now arrived in Bishop Auckland and hopes to lay the ashes on his grandparents' grave in Coundon.
Mr Brown sold his car to help fund the trek, which involved travelling around Eastern Australia, then flying his motorcycle to Korea, where he joined it for the overland phase across Asia, Russia and Eastern Europe.
Speaking from his aunt's home in Westerton, he said: "My mother was born and bred here, she used to be a midwife down at the local hospital.
"She emigrated in 1963, left her two sisters, her brother, her mother and father behind, and unfortunately never got to see them again.
Vast distances
"Before she passed away from dementia a year ago she just kept saying 'I want to go home, I want to go home', and I sort of came to the conclusion that the best place for her, for her ashes, was back here where she belonged."
He described his time on the road as "a real experience".
"It was just a day-to-day thing", he said.
"You'd get up in the morning and know you'd have to ride the bike all day, so you just sort of did it, really.
"Going across Russia was really very interesting, both for the language barrier and the vast distances between the cities.
"Sometimes I was riding two or three days between cities, some of them 700 or 800 miles apart on really, really poor roads, so it was a case of 'where are we going to spend the night?', 'where are we going to eat tonight?', you just keep going."
He added: "It's been a very, very long journey, and I'm glad to be here now.
"It doesn't seem like three months since I left, but when I look back I can recall every single day."