Teesside coroner Michael Sheffield avoids disciplinary action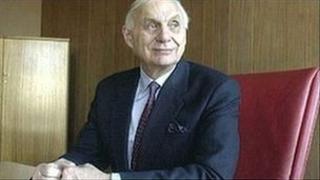 A two-year investigation into inquest delays on Teesside has found no evidence to suggest the area's coroner was to blame for the backlog.
The Office for Judicial Complaints (OJC) said no disciplinary action was necessary against Michael Sheffield.
He has been issued with "informal advice" by the Lord Chief Justice on keeping delays "continuously under review", a OJC spokeswoman said.
Tom Blenkinsop MP said the OJC had failed to take "decisive action".
The OJC investigation began in August 2011 but was deferred while Middlesbrough Council considered the issue.
The inquiry considered the findings of the council scrutiny panel report which found inquests on Teesside took an average of 44 weeks to be fully completed, compared to a national average of 27 weeks.
'Service in crisis'
Mr Blenkinsop, Labour MP for Middlesbrough South and East Cleveland, said: "Mr Sheffield has been in charge of a service in crisis for many years and failed to resolve the situation.
"As such, I would continue to urge him to retire, for his own sake, for the coroner service's sake, and for the sake of grieving families on Teesside."
Stockton South Conservative MP James Wharton said Cleveland Police and Mr Sheffield, who is in his 80s, were now "working together to deliver service improvements".
"When I first became involved both sides were barely on speaking terms," he said.
"Now things are much improved and we all need to work together to deliver the quality of service residents rightly expect."
The coroner's office could not be reached for comment on Monday.
Mr Sheffield's deputy Tony Eastwood has previously insisted changes to the service - including an improved working relationship with Cleveland Police - would have a positive impact.