Homes flooded in Redcar and cars swept away in Saltburn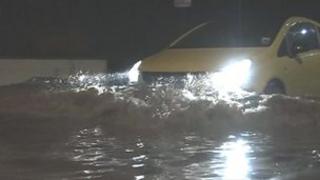 Cars were swept away and 60 homes evacuated after torrential rain hit the north-east of England.
Two cars were swept away by flood water in Saltburn, and the RNLI and Cleveland Police helicopters were scrambled over fears drivers had been swept away. Everyone was accounted for.
Cleveland Fire Brigade said 60 homes had to be evacuated in Redcar.
The Hartlepool and east Durham areas were also badly affected by the flooding on Friday evening.
Saltburn Councillor Phillip Thompson said the volume of water to hit the region was "unprecedented".
Dave Cocks of Redcar RNLI said: "Initial reports were of two vehicles being swept into flood water in Saltburn after a bridge had collapsed during the severe rainfall.
"There was no sign of the occupants of the vehicles at that time and there was concern that they may have been swept out to sea.
"Our crew assembled but as they were preparing to launch the lifeboat, police and fire brigade officers at the scene were able to confirm that everyone was accounted for.
"Sea conditions have been horrendous, with northerly winds gusting at over 40mph earlier. It would have been a very difficult rescue operation, so we are very pleased that everyone has been found safe and well."
Raft rescue
In Skelton, lorry driver Colin Wilson was stranded while driving under a railway bridge.
He said: "I just sank and the whole of the cab was covered in water. I sat on the roof and eventually the fire brigade rescued me using a raft."
Cleveland Fire Brigade received around 240 calls within just a few hours - the number of calls it received in the whole of August.
Dave Turton, spokesman for the brigade, said: "There was definitely a potential for loss of life at the height of the flood so we had to concentrate our resources.
"At one stage we were carrying out 20 rescues in 10 different locations such as helping people from stranded vehicles."
The Environment Agency has now lifted all remaining flood warnings and alerts in the Teesside area.