George Dunning survives Lib Dem no confidence motion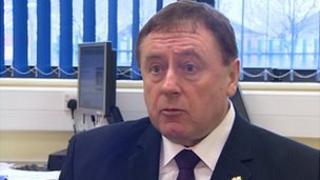 An attempt to remove George Dunning as the leader of Redcar and Cleveland Council has failed.
A motion, brought by Liberal Democrat councillors, failed to gain enough support at a meeting in Eston earlier.
Lib Dem group leader Glyn Nightingale had proposed the vote of no confidence in Mr Dunning, calling for the Labour leader's "immediate removal".
Following a debate, 13 councillors voted for the motion and 27 against. A number of Labour councillors abstained.
Two thirds of councillors present were required to support the motion for it to succeed.
The motion followed votes of no confidence passed by Labour members at internal branch meetings.
'Nasty politics'
The council's decision to sell Guisborough register office to a national pub chain was cited in a number of disapproving letters sent to the Labour party's local chair.
Campaigners had fought for the building to be turned into a community theatre run by Earthbeat, a group made up of adults with learning disabilities.
During Thursday's meeting, Conservative leader Valerie Halton said Mr Dunning was a "poor, weak leader" and criticised a number of the appointments he had made.
Labour councillor Dale Quigley said it had been a "huge mistake for the leader to put into his cabinet a former member who was under police investigation" in reference to Dave McLuckie, who was jailed in July for perverting the course of justice in relation to a driving matter.
Sheelagh Clarke, Mr Dunning's deputy, said the motion was not about Mr Dunning and had "nothing to do with this council".
"It's about nasty politics," she said.