Lorry-driving police spot Teesside and County Durham offences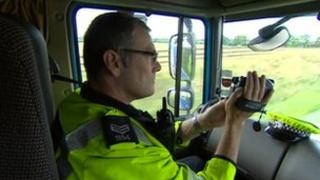 Lorry drivers committing offences at the wheel are being targeted by undercover police.
Officers from Cleveland and Durham Specialist Operations Unit are patrolling major routes in an unmarked lorry cab.
They said being on the same level meant they could film any offences.
Things they will be looking out for include drivers watching TV on laptops, speaking on mobile phones and not wearing seatbelts.
Two officers will patrol with one driving and the other filming during the operation called Riding High.
They will gather evidence and then alert fellow officers if they spot offences.
PC Ian Turner said: "We are the same height as other LGV drivers so it gives us the ability to look straight across at the same height as the driver and see if they are committing any offences."