Cleveland Police mounted section to close as campaign fails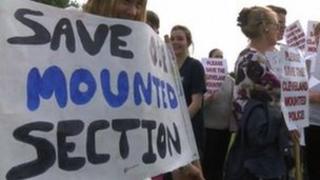 Arrangements to find new homes for Cleveland Police horses are under way, after a deadline for campaigners to raise money to save them passed.
The force announced in June it would be scrapping its mounted section in a bid to save £88,000 a year.
Following a local protest, the chief constable agreed to postpone the decision while the group attempted to raise funding to stop the axing.
However, the deadline has passed and the unit of five horses will close.
Campaigners described the section as "very involved" with the local community, and urged the force to look for savings elsewhere.
'Keep people safe'
Chief Constable Jacqui Cheer, said: "I fully appreciate the sentiments of the campaigners, and I have met with a number of them to discuss the matter.
"However, with 300 fewer officers I need to deliver a policing service that keeps people safe.
"It is more important for officers to be in neighbourhoods, response or child protection rather than the mounted section."
She added: "I am pleased to say that we are now in discussions with a local charity with a view to finding homes for the horses as soon as we can."