Old Stockton shop with outside loo gets £430,000 revamp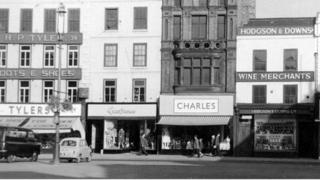 A Stockton shop which dates back nearly 200 years has been renovated as part of a scheme to refurbish under-used or empty historical buildings.
42, High Street got £430,000 from the council and the Heritage Lottery Fund.
Now a travel agent, it has been a shoe-maker, bookseller, ironmonger, printer, watchmakers and wine merchants.
Shop owner Manjinder Jagpal said the building was so old staff "had to go outside to climb a set of external stairs to visit toilet facilities".
"The age of the building and its layout was beginning to become unsuitable for use as a modern office," he said.
Work on the shop unearthed artefacts including bottle labels from the 1800s and remnants of various layers of decades-old wallpaper.
The Townscape Heritage Initiative aims to make old buildings fit for use while protecting the town's heritage.
Stockton council's cabinet member for regeneration Mike Smith said: "It is well documented that attractive buildings and shops encourage confidence in the town and the number of people coming."
The council is encouraging applications for funding from owners of other historical buildings in the town.