Pair guilty of plundering godmother's £130,000 savings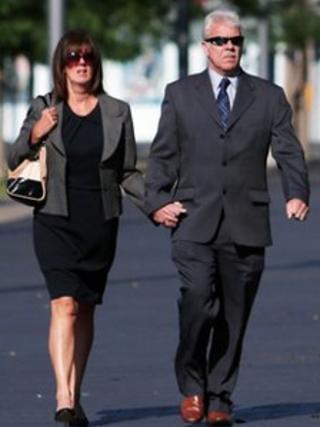 A Teesside couple have been convicted of virtually wiping out a 91-year-old godmother's £130,000 life savings in two years of high spending
Lesley Reeve, 56, and husband Andrew, 55, spent all but £3,000 of her godmother Joan Killen's savings after she gave them control of her affairs.
Teesside Crown Court heard they spent thousands on clearing debts, buying a new car and electrical goods.
The pair, from Hartlepool, were granted bail and will be sentenced later.
The court heard Miss Killen handed over control of her bank accounts so the Reeves' could modernise their home in Chichester Close, ahead of her moving in with them.
But instead they cleared credit card debts and spent some of the cash on converting the garage of their home into a wet room and gym.
The couple claimed Miss Killen was "ecstatic" when they asked her to move in and had told them to spend her money how they liked.
Weekly allowance
Mr Reeve, giving evidence, claimed it was a coincidence that when police arrested the couple, the gym contained a treadmill and exercise ball, and maintained the conversion was intended for Miss Killen, who is still alive.
But a jury convicted them of stealing £95,000 in savings, and theft of rent money they made from getting a tenant to move into her property when she went into a care home after a fall.
Mrs Reeve, who collapsed in the dock, was also convicted of stealing £2,940 in pension payments.
The couple, who had denied four counts of theft, were cleared of stealing a winter fuel payment of £150.
While they were spending up to £2,500 of Miss Killen's savings a week at one point in 2009, the Reeves were sending her a weekly allowance of just £9.13, the court heard.
Hartlepool Council stepped in to protect Miss Killen when concerns were raised about her finances and called in the police.
After the case, Det Insp Dave Turnbull of Cleveland Police, said: "Mr and Mrs Reeve took full advantage of a vulnerable lady and have spent her money entirely for their own benefit, which has left the victim with little left.
"We will now commence an investigation to recover the proceeds of the crime."
The Recorder of Middlesbrough Judge Simon Bourne-Arton granted the couple bail to allow reports to be prepared ahead of sentencing next month.