Plans for Yarm retirement village divide opinion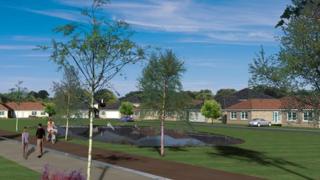 Developers hope it will "set standards" around the world, while opponents fear the impact the project will have on traffic and local wildlife.
Work on a £100m US-style retirement village on farmland in Yarm, Teesside, is expected to start "soon" after planning permission was granted last month.
The application for hundreds of houses and a 100-room care home was initially refused in December.
Stockton councillors then voted to approve a revised plan, despite a recommendation by officers.
Developer Javed Majid, a former nightclub owner, said he was "hugely excited" about the proposals for Mount Leven Farm.
'Total disregard'
Mr Majid's vision includes space for a swimming pool, bowling green, restaurant and shops.
"It is not just property we are building," he said, "but a whole lifestyle and a range of living options for the over-50s, from completely independent living through to nursing care."
Opposition to the scheme on "green wedge" land splitting Yarm and Ingleby Barwick, has been widespread.
Some 270 letters were sent opposing the planning application whereas 92 locals wrote in support.
Christine Mundy, chair of the Leven Valley Protection Group, said residents had "serious worries" about increased traffic and pressure on the local infrastructure, and believed there had been a "total disregard" for the countryside and farmland.
Her organisation has joined forces with others to form Save Stockton South, a campaign group frustrated at decisions taken by the council.
Stockton South MP James Wharton has described the scale of the development as "simply too much" and called for the council to listen to the views of local people.
For its part, the authority has pledged to attempt to address some of the main concerns after an attempt to have the Mount Leven decision reviewed by central government was deemed unnecessary.
The building project, Mr Majid hopes, could be finished within two years.
He said he had researched similar projects in other countries and would be working with "the world's leading advisers" to ensure Mount Leven enabled older people to live "happily, safely and, for as long as possible, independently".
"It will meet the needs and aspirations of the older generation and have a major positive impact on the local and regional economy," he said.
Opponents like Mrs Mundy remain unconvinced.
"We see the value in retirement villages," she said. "We're all going to get old at some point in our lives.
"However, we have said all along that this is just not the right location."