Hartlepool godmother theft accused 'planned wet room'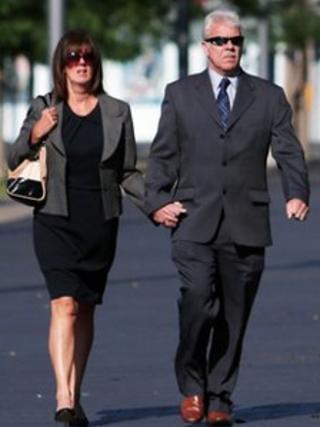 A couple accused of stealing a 91-year-old godmother's life savings planned to use the cash to build a gym and wet room for their home, a court has heard.
Lesley Reeve, 56, and her 55-year-old husband, Andrew, from Hartlepool, deny four charges of theft.
Teesside Crown Court heard they took almost £95,000 from dementia sufferer Joan Killen over a two-year period.
Mrs Reeve claimed her godmother allowed cash to be used to modernise their home so she could move in with them.
But the prosecution has claimed a planning application showed the pair's real intention was to convert the garage of their home in Hartlepool's Chichester Close, into a gym and wet room.
Wiped out
The unemployed former oil company receptionist, who has sons aged 24 and 27, said she grew up with her godmother, known to the family as Aunty Joan, as a constant part of her life.
After Miss Killen suffered a fall, the couple asked if she wanted to move in with them, Mrs Reeve said.
"Her first words were 'I thought you would never ask'," she told the jury. "She was ecstatic."
The defendant said Miss Killen told them to spend what they needed to on their house to modernise it.
Mrs Reeve added: "She said 'use whatever you want' basically."
The court has heard the couple wiped out Miss Killen's life-savings in two years. They claim they were allowed to spend the money.
Earlier the court heard the couple had been unable to see Miss Killen following their arrest.
The trial continues.