Hartlepool godmother theft-accused 'told to spend'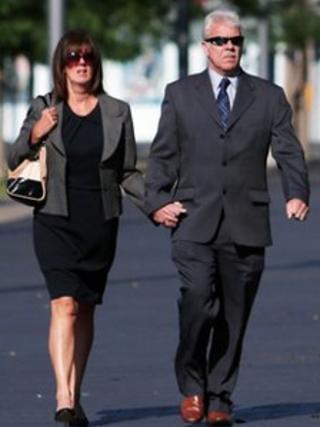 A man accused of stealing his wife's godmother's life savings was given permission by the alleged victim to take the money, a court has heard.
Lesley Reeve, 56, and her 55-year-old husband, Andrew, from Hartlepool, deny four charges of theft.
Teesside Crown Court was told they took almost £95,000 from dementia sufferer Joan Killen over a two year period.
Mr Reeve said the 91-year-old told him and his wife to use the money "in any way we saw fit".
The court heard Miss Killen considered the couple, of Chichester Close, Hartlepool, as the only family she had.
Mr Reeve became co-signatory for her accounts when her mental health began to deteriorate.
'We love Joan'
Almost £95,000 was then removed, until she had insufficient funds to pay her care home fees, and the authorities were alerted.
The prosecution allege that the couple spent the money on paying off a credit card bill, buying a new car, and making other retail purchases.
Some of it went on a planning application to convert their garage into a gym and wet room, but Mr Reeve said it was really intended as a bedroom for Miss Killen.
He told the court that she was "delighted" with the plan to move in with them.
"She told what we could spend what we needed to do the modernisations, and she also said we could use it as we saw fit," he said.
He said the couple had been unable to see Miss Killen since their arrest.
"We love her, we love Joan.," he said.
"We are her only family and we haven't been able to see her for 19 months."
The trial continues.