Foster carer Jane Bailey named Middlesbrough citizen of year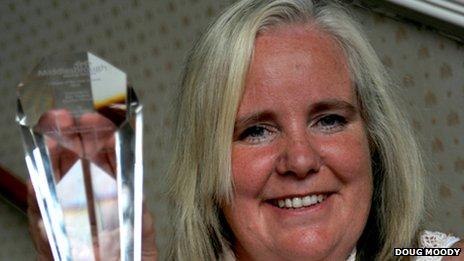 Foster carer Jane Bailey describes the scene in her home as "organised chaos".
The 41 year old has looked after almost 80 children in more than a decade of service that has seen her named Middlesbrough's citizen of the year.
The mother of four, who cares for vulnerable children on a full-time and emergency basis, caught the fostering bug from her mother.
"My mam was a foster carer for 26 years and retired at the age of 72," she said.
"So it's always been part of my life.
"I love the kids that come to my house and my biggest weakness is that I'm not very good at saying goodbyes. The hardest part is letting go."
Ms Bailey was nominated for her award by social worker Jane O'Toole, who said her efforts had been "priceless".
"Jane was just born to be a mother and parent," she said.
"Jane is a very humble individual who has changed the lives of so many children, and yet she doesn't see it like that.
"She works hard to make sure that children know that their parents do love them, but that for whatever reason they cannot manage their care."
Ms Bailey said she was "embarrassed" to get the recognition.
"There are so many good foster carers, but I was very honoured to get the recognition. It's such a rewarding thing to do."
Ms Bailey said the support of her family had been vital as she brought up her own children and had continued to be a big factor in her fostering, which she started in 2000.
"I don't think I'd be able to do it without their help," she said.
"I can empathise with the parents of these kids because I've been really lucky. I made mistakes when I was younger but I had the support of my family."
Job satisfaction for Ms Bailey is seeing the change in the children that come under her wing.
"I have kids who have never used a knife and fork," she said.
"These kids haven't had a routine.
"So it's about giving them life memories. Some of them haven't been to the seaside or to a farm."
After being presented with her award by Middlesbrough mayor Ray Mallon, Ms Bailey joked with her family about beating her mother's record.
"I've said I'll keep going until I'm 73," she said.
Related Internet Links
The BBC is not responsible for the content of external sites.