'Encouraging' fall in measles cases in north-east England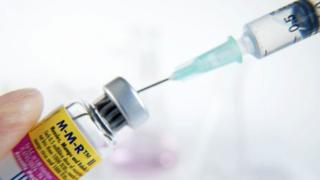 A fall in measles cases in the north-east of England is "encouraging", health officials have said.
The first six months of 2013 saw a big increase in measles, with 374 cases - up from two in the same period in 2012.
New figures show cases have dropped from 113 in April, to 46 in May and just two in June.
North East Public Health England Centre's Dr Roberta Marshall said: "The reduction is encouraging, but we must not be complacent."
Earlier this year the Health Protection Agency described the region's measles outbreak as "serious".
Throughout the outbreak most of the cases have been reported on Teesside.
'Unpleasant disease'
It meant schoolchildren in the area were among the first to be targeted through the national vaccination campaign.
A catch-up programme has been running to prevent measles outbreaks by giving the MMR jab to unvaccinated and partially-vaccinated 10 to 16 year olds with a target of 95% across England.
The latest figures also show that across England, there was a drop from 299 cases in April to 193 in May and 113 in June.
Dr Marshall added: "Thanks to the hard work of local health teams we are making good progress towards the 95% target.
"Measles is a highly infectious and unpleasant disease which can lead to very serious complications.
"Children who have not had the MMR vaccine are at a high risk of catching the disease."
She encouraged people to use the holiday period to get their children fully vaccinated.