Hartlepool couple deny taking godmother's money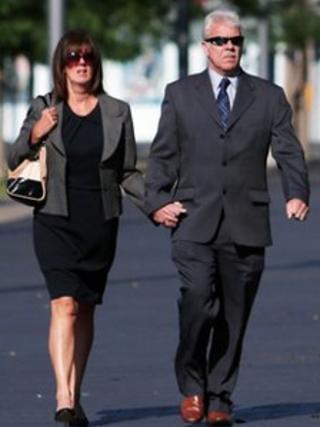 A Teesside couple have denied stealing the woman's 91-year-old godmother's life savings.
Lesley Reeve, 56, and her 55-year-old husband, Andrew, are accused of taking almost £95,000 from dementia sufferer Joan Killen over a two-year period.
Teesside Crown Court heard that Miss Killen was left so short of money she was unable to pay the charges for her care home.
The couple, from Chichester Close, Hartlepool deny four counts of theft.
The jury was told that Miss Killen had no close relatives, and her god-daughter was the only family she had.
Mr Reeve became a co-signatory for Miss Killen's accounts when her mental health began to deteriorate in 2009.
Cash was then allegedly withdrawn and money transferred via the internet into the couple's joint account.
'Vulnerable victim'
The prosecution said they also spent her pension and winter fuel allowance and made money by renting out her home, once she had gone into care.
The jury heard before doing so they removed safety equipment installed by the council, despite an official saying she may be fit enough to return at some stage.
Matthew Bean, prosecuting, said the victim was vulnerable due to her dementia.
"She intended to leave almost all her possessions to them in her will," Mr Bean said.
"Both defendants must have been well aware of this and decided to take advantage by taking her life savings."
He said the couple bought a car, furnishings and electrical goods, and there were regular shopping trips funded by Miss Killen.
"By this time her accounts had been reduced to such an extent she was no longer able to pay the charges for the care home where she lived," Mr Bean said.
This led to an investigation by Hartlepool's safeguarding team into what had happened to Miss Killen's money.
The trial, which is expected to last a week, continues.