Cleveland Fire Brigade sees 341% rise in arsons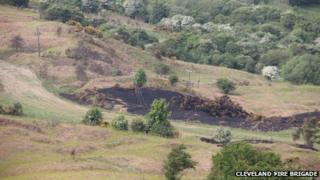 Cleveland Fire Brigade has revealed a 341% rise in the number of arson attacks and grass fires.
The brigade said between April and June 2012 crews dealt with 121 incidents while the figure for this year was 534.
A spokesman said some of the largest increases had involved grass fires, particularly in the Eston Hills area of East Cleveland.
In March, the brigade said arsonists had cost Teesside taxpayers £42m over the past three years.
A spokesman said: "We are so lucky to have some beautiful countryside on our doorstep, but unfortunately such areas also attract undesirables who seem intent on starting fires deliberately.
"Not only are people's lives being put at risk, but the perpetrators are blighting our countryside and harming wildlife.
"Eston Hills has suffered significantly from grass fires and during the summer holidays we will be teaming up with the police to carry out patrols of the area and reinforce the messages about the dangers and cost of arson.
"As we have seen recently in America, grass fires can be extremely dangerous and have a devastating affect.
"If there is a strong wind fire spreads faster than a person can run."