Middlesbrough council chief's £298,371 retirement package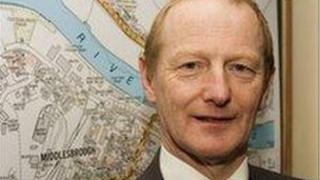 A Teesside council paid almost £300,000 towards the early retirement of its chief executive, it has emerged.
Ian Parker left Middlesbrough Council, aged 55, last June. Details of his early retirement package have been revealed as the authority finalises its statement of accounts for 2012-13.
Unison said it was "naturally concerned" about the amount of money involved during a time of budget cuts.
Mr Parker was contractually entitled to receive the payment, the council said.
Accounts show the authority paid £298,371 towards Mr Parker's settlement. He was the council's fourth chief executive in 10 years.
Janet Greig, regional organiser for Unison said: "Members are naturally concerned about the amount of money involved, given the recent high turnover of chief executives in Middlesbrough Council, and would obviously want to see better investment in existing jobs and services."
The council is making cuts of about £13m during the current financial year.