Cleveland Potash Boulby mine tower to be demolished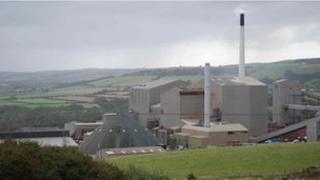 A 50m (164ft) tower at a potash mine in East Cleveland is to be demolished as part of a £300m redevelopment.
The old Rockshaft Tower built at the Boulby mine in 1969, is being replaced after the sea air and weather corroded the structure.
The £15m project will see the new tower built alongside the current one. Work is expected to be completed by April.
Project manager Neil Fickling said the project would "guarantee" the future of the mine for at least 30 years.
The renewal will raise the amount of ore lifted to around 5.3 million tonnes a year, a one million tonne increase on the current maximum, owners Cleveland Potash Ltd said.
A controlled demolition will take place on Monday.