Cleveland Police chief Ann Hall's resignation 'unacceptable'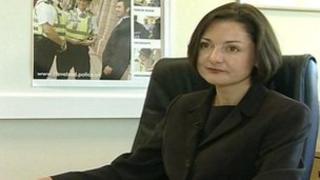 Cleveland Police has been criticised by the police watchdog for allowing a chief finance officer to resign ahead of a misconduct hearing.
Ann Hall was due to face a disciplinary hearing this month following a force probe into alleged gross misconduct.
The hearing is no longer going ahead after Ms Hall's resignation was accepted by Cleveland Police.
The Independent Police Complaints Commission (IPCC) said not completing the probe "eroded" public confidence.
Ms Hall was suspended in February as part of a separate and continuing IPCC investigation.
The investigation is in relation to an allegation that unauthorised payments amounting to thousands of pounds were made to an executive coaching company.
Unanswered questions
IPCC Commissioner Cindy Butts said: "I am very mindful that the public are extremely concerned when officers and staff resign or retire while under investigation, thereby escaping a misconduct sanction.
"I find it completely unacceptable that individuals take this option rather than face up to the case against them. The IPCC cannot prevent this happening and that is frustrating.
"The misconduct process should be seen through to conclusion - if it is not it will inevitably leave unanswered questions and erode public confidence."
The IPCC said it was in the "public interest" to continue its investigation so the public can "judge the actions" of Ms Hall "for themselves".
Cleveland Police's investigation into Ms Hall, who was responsible for finance and commissioning at the force, was part of Operation Sacristy, a probe into alleged corruption at the force.
Cleveland Police said it would not be commenting on the IPCC's statements.