Dave McLuckie jailed for dodging speeding points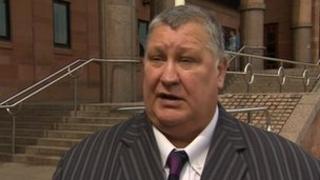 A former police authority boss who persuaded a friend to accept his speeding points to protect his career has been jailed for eight months.
Dave McLuckie, who led Cleveland Police Authority, had denied perverting the course of justice, but was found guilty at Newcastle Crown Court.
McLuckie, 52, of Great Ayton, North Yorkshire, told a friend he needed "a big favour", the jury heard.
He had nine points on his licence when he was caught speeding in 2009.
McLuckie was vice chairman of the authority and due to take on the more senior role when his black Peugeot was caught by a speed camera doing 36mph in a 30mph zone in Carlin How, East Cleveland.
Corruption probe fear
It emerged he had asked family friend Maurice Ward to accept the points on his behalf. The information came to light after Mr Ward's death from cancer last year.
Judge David Wood told McLuckie: "This case is not really about penalty points, it's about justice and equality before the law. You are not entitled to avoid the law or interfere with the course of justice."
McLuckie vowed not to return to politics after leaving the Labour Party and resigning as a councillor when the verdict was reached last month.
Julian Smith, defending, said McLuckie's own "poignant" assessment of the case was that "it has destroyed everything I have ever been".
The fact that McLuckie is still under investigation by Operation Sacristy - an inquiry into alleged corruption within Cleveland Police - will make his time in prison difficult, his barrister said.
"That is likely to attract the wrong kind of attention, that is a matter about which he is understandably concerned," Mr Smith said.
'Driven by malice'
The judge told McLuckie the case was similar to that of former cabinet minister Chris Huhne and his ex-wife Vicky Pryce.
They were each jailed for eight months after Pryce took three points for Huhne in 2003 when his BMW was caught speeding on the M11.
McLuckie's deception came to light after Mr Ward became ill and felt his friend had not visited him enough.
Mr Ward had details of the situation in his diary and his daughter contacted a councillor who took the matter to the police.
McLuckie told the jury the Ward family's claims were driven by malice.