Petition against Cleveland Police mounted section axe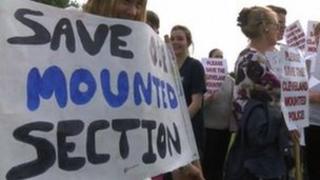 A petition calling for Cleveland Police's mounted section to be retained has been handed in to the force's HQ.
Scrapping the unit of five horses, two members of staff and seven officers will save about £88,000 a year, police chiefs have said.
However, campaigners said the unit had provided community front-line policing and gained a lot of local trust.
Their petition urging the force to reconsider has attracted more than 3,000 signatures.
'Hard decision'
Organiser Jane McGravey said: "Everyone is saying that £88,000 savings is just a drop in the ocean.
"There are lots of areas where that money could be saved.
"They were very much involved with the community, and over the past 40 years they've earned a lot of trust, and people are really opposed to losing that.
"We have gained 3,214 signatures in a period of 10 days; that in itself is saying something."
Chief Constable Jacqui Cheer described the decision as "one of the hardest" she has had to make, but it was necessary to cut overall spending.
The force has already said it will axe hundreds of officers in an effort to save an estimated £26m by 2014.