Middlesbrough Mela: Attendance 'exceeded expectations'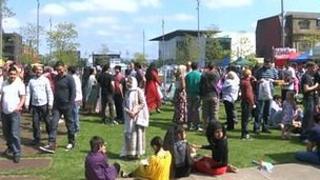 Attendance at one of the north of England's largest multi-cultural festivals exceeded expectations, organisers have said.
About 40,000 people visited the 23rd Middlesbrough Mela which took place over two days in Centre Square.
The event, now in its 23rd year, featured live music, food, crafts and fashions from around the world.
Organisers described it as a "terrific showcase" for Middlesbrough's huge depth of cultural variety.
Satnam Singh said: "This year, like last, we were in the centre of town centre which is so vibrant, bringing the heart of the community into the Mela."