Middlesbrough Mela expected to attract 50,000 visitors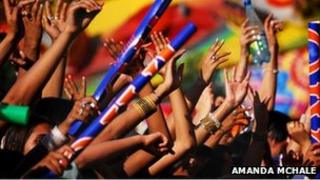 Up to 50,000 people are expected to attend what is being billed as one of the north of England's largest multi-cultural festivals.
Middlesbrough Mela is under way at its new home in Centre Square, after its previous venue, Albert Park, was plagued by flooding.
The event, now in its 23rd year, features live music, food, crafts and fashions from around the world.
Performers include H-Dhami, Navin Kundra, Heera and Notorious Jaat.
Mela committee chairman Naveed Hussain said: "The festival is a terrific showcase for the huge depth of cultural variety that we have in Middlesbrough and I am sure it will continue as an annual highlight for many years to come."
Kash Patel, entertainment programmer, added: "The mela always attracts 30,000 to 40,000 visitors, but we're hoping to go even higher this year.
"We're delighted to be bringing the mela back to its roots, as the town centre is where it all began 23 years ago."