Cleveland Bridge secures Sri Lanka bridge building deal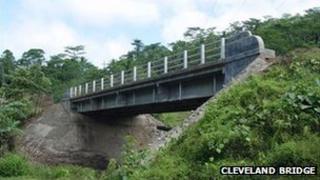 A Darlington firm has signed a £35m contract to build hundreds of road bridges in Sri Lanka.
Cleveland Bridge will design and build the structures in jungle and rural areas of the country.
The company will replace unreliable rope bridges with permanent steel and concrete crossings.
Graham Hutchinson from Cleveland Bridge said the project would make a major contribution to the "economic and social development" of Sri Lanka.