Redcar Beacon 'vertical pier' opens to the public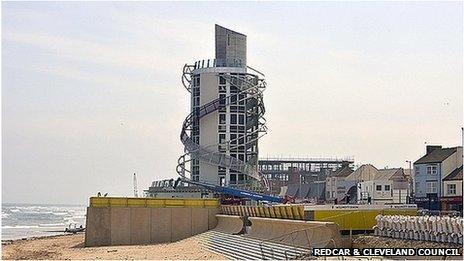 A £1.6m seafront tower initially dubbed the "vertical pier" has opened to the public.
The Redcar Beacon is part of a £75m redevelopment of the town's seafront.
The structure has drawn criticism from some residents who had favoured a horizontal, rather than a vertical, pier.
Redcar and Cleveland council said it would create "scores of jobs both from businesses based in the new landmark and as a result of a boost in tourism".
Cabinet member for economic development, Mark Hannon, said: "We are talking about a vast - and badly needed - boost for the borough.
"For every pound spent on the Beacon we will see a return to the local economy.
"Creating just 100 jobs would generate £37m over ten years and that's without construction jobs, purchase of local materials and more visitors spending money here."
In January the council carried out a survey on the 80ft (24m) tower after rumours it was leaning.
Council leader George Dunning said at the time structural engineers had looked at it and he had been reassured it was not leaning.
"It's like the rumours when they said we wanted to charge £5 to go up the pier - they're just rumours," he said.
The tower was named the Redcar Beacon in September after a public vote.
Related Internet Links
The BBC is not responsible for the content of external sites.