Micro pig stolen from Newham Grange Country Farm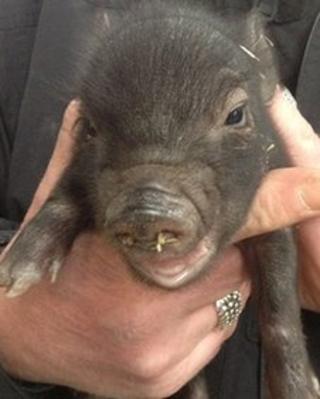 A newborn micro pig was stolen from a leisure farm by a woman who poured water on its mother before fleeing in a waiting car.
The woman grabbed the piglet from Newham Grange Country Farm in Middlesbrough on Saturday, Cleveland Police said.
Mark Saunders from the farm said the four-day-old black pig was likely to die unless it was returned.
The woman was at the farm with two other adults, a child and a baby.
She had been asked to leave the farm after entering the pens on a number of occasions.
Police said a guinea pig was also stolen at around 16:15 GMT when the group left the farm in a silver Ford Focus.
'Extremely distressing'
Mr Saunders said: "We are concerned that the piglet won't survive as it has been taken away from its mother and needs to be with her.
"The piglet is one of four born last week and the mother has been looking around for it amongst the other three since the incident happened."
One of the women is described as white, with red hair and of heavy build. A man seen with the group was said to be wearing a blue tracksuit.
PC Lyndsay Dale said: "This has been extremely distressing not only for the mother of the piglet but also for the staff who work at the farm."