John Coates murder trial: Robert Baker jailed for life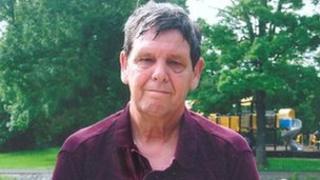 A man has been jailed for life after being found guilty of beating his neighbour to death before dumping him naked into a bath.
The decomposing body of John Coates, 61, was found at Fleet House, Middlesbrough, last September.
Robert Baker, 24, was sentenced to a minimum of 17 years at Teesside Crown Court on Thursday.
In court, Judge Simon Bourne-Arton QC, said Baker was a "cold and calculating" individual.
The judge said Mr Coates was a respected man who was trusted to look after a key for the communal living room on the ground floor of the flats.
'Selfish amusement'
It was a key, the judge said, "which ultimately led to his downfall". Baker borrowed the key and stole a television which was for the use of all residents.
The judge said Baker knew Mr Coates had been trying to "track him down" in order to get the key back.
This led to Baker going to Mr Coates' flat on the 12th floor, the court heard.
"Something happened which resulted in you attacking him," the judge said. "Once you started that attack you carried it out with ferocity."
The judge said Baker then removed the "dead or dying" man's clothes and placed him in the bath with a degree of "calculation and cunning".
He then set about cleaning the flat and stole items for his own "selfish amusement" before starting to believe he had "got away" with it.
But Baker had no explanation for how his thumbprint was found in wet blood in Mr Coates' living room.
Det Supt Peter McPhillips, who led the investigation, paid tribute to Mr Coates' family and the witnesses who provided statements and gave evidence.
He said: "Throughout the investigation and during his interviews, Baker has shown no remorse or compassion for his victim and he has made no attempt to account for his actions.
"He is an extremely dangerous and violent individual who will now face a substantial time in jail so that the communities of Cleveland can be protected."
In a statement, Mr Coates' family said: "John was a kind and gentle man who would give help to anyone without thought of any gain. It was this kindness that ultimately led to his death.
"The loss of John through such a barbaric and vicious crime has hit the family hard, we now would like to draw a line under this and be allowed to come to terms with it in our own way."