Horden shootings: Convicted officer had gun licence role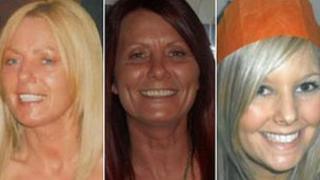 A police officer who illegally sold guns to the public played a part in granting a gun licence to a man who shot three members of his family.
Michael Atherton, 42, shot his partner Susan McGoldrick, Alison Turnbull, her daughter Tanya and then himself, in County Durham on New Year's Day 2012.
Former Durham PC Damien Cobain was convicted of misconduct in a public office in 2010 and left the force.
An inquest heard he was part of a team that dealt with Atherton's application.
Taxi driver Atherton shot the three women in the back before taking his own life at his home in Horden.
In his evidence at the inquest into the deaths, Mr Cobain said he had never seen guidance by the Home Office or the Association of Chief Police Officers on the issuing of gun certificates.
Domestic abuse
Another officer, Karen Bromley, who was a supervisor in the Durham Police firearms office, told Crook Coroner's Court: "There was no formal training, I'm not aware of any formal training in firearm departments.
"Ninety per cent of application forms were straightforward."
This led coroner Andrew Tweddle to describe the force's procedures as "more of an ad hoc arrangement".
Atherton legally owned six weapons, including three shotguns, despite him having a history of domestic abuse.
Ms Bromley said she had attached a note to Atherton's file in 2006 that said: "Four domestics, last one 24/4/04, was cautioned for assault. Still resides with partner and son and daughter. Would like to refuse, have we sufficient info to refuse re public safety?"
But despite this he was granted a shotgun certificate and a firearms licence two years later, the inquest was told.
Mr Cobain left the force after his conviction in 2010, when he was given a suspended sentence for selling on guns due to be destroyed after being surrendered by the public.
Earlier Home Office pathologist Dr Nigel Cooper said Mrs McGoldrick, 47, Mrs Turnbull, 44, and her 24-year-old daughter would have died quickly after receiving their shotgun wounds, while Atherton would have died instantly as a result of a shotgun wound to the left side of his head.
The inquest, which is due to last five days, heard they had all been out drinking hours earlier, although tests showed this had not been to excess.
In the early hours of New Year's Day an argument broke out, which resulted in the shootings.
The inquest continues.