Temporary police chief Jacqui Cheer set to get role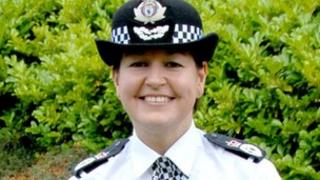 The temporary police chief of the Cleveland force has been recommended to get the job permanently.
Jacqui Cheer took over after Chief Constable Sean Price was suspended in 2011 and later sacked for misconduct.
Mrs Cheer, who helped catch Steve Wright who murdered five Suffolk prostitutes, was the only applicant for the job.
Police commissioner Barry Coppinger is recommending Mrs Cheer and said getting only one applicant was not unique.
Under new nationwide procedures, crime commissioners must recommend a chief constable.
It is then considered by the Police and Crime Panel.
Mr Coppinger said Mrs Cheer was an "exceptional officer" who had done a tremendous job during a "challenging period".
Mrs Cheer spent 22 years working with Essex Police and the Home Office Reform Unit.
She joined the Suffolk force as assistant chief constable in 2006.
'Candidate shortfall'
Mr Coppinger said: "I believe we have been very fortunate to have a candidate of the quality of Jacqui Cheer who has already demonstrated her leadership skills.
"She also had the ability to introduce the new ways of working we need to meet the demands of modern policing."
Mr Coppinger said that because the Home Office prevented permanent appointments prior to elections for police and crime commissioners, there had been 14 chief constable vacancies to be filled across the country, leading to a shortfall of candidates.
He said Mrs Cheer had undergone a selection process with three other candidates when appointed in the temporary role.
Mrs Cheer said: "The last year has been challenging yet extremely rewarding and I look forward to continuing the work to shape the force for the future."
Mr Price and his deputy Derek Bonnard were arrested in August 2011 as part of Operation Sacristy, a criminal investigation into allegations of corruption at the force.
Mr Price remains on bail as part of the probe and was dismissed from his post after being found guilty of gross misconduct.
Mr Bonnard is due to appear at a misconduct hearing on 4 March.