Kat Copeland secures Tees Rowing Club cash boost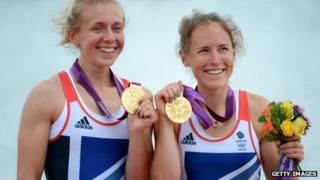 The rowing club where Olympic gold medallist Kat Copeland trained her way to London 2012 success has received £47,000 of Lottery legacy cash.
Tees Rowing Club is one of more than 300 projects to get funding in the latest round of Sport England's Inspired Facilities programme.
The money will go towards improvements at the River Tees Watersports Centre in Stockton.
Club president John Green said he was "delighted".
"We can upgrade the quality of our premises, and provide equipment to match the demands of our growing membership and the quality of our coaching team," he said.
The club has seen a surge of interest in the sport since the Olympic Games and will spend the funding on new equipment and upgrading showers.
More than 1,000 groups have now received grants from the Inspired Facilities fund.